---
My name is:
Jeffrey F. Bowers
BIRTH :
My Roots
I was brought into this world at 1:23 am,
on a Saturday, at Burbank Hospital in Fitchburg, MA
under the sign of Libra in Oct. of 1958
I was delivered by Dr. Marshall Lamb and nurse Ag Young
I weighed 7 lbs. ˝ oz. and measured 21" long
i was circumsized 2 days later... I spent 4 days in the hospital
and the Blue Cross bill for 4 days and delivery was $174.00, insurance paid $137.00
I baptized the middle of Oct. at St. Bernard's Church
I had my 1st smile was at 5 weeks
and had mild cause of the chicken pox in Jan of 1965
---
In the News 1958 :
The headlines when I was born were "United States shows off X-15 Rocket Plane"
other headlines around the world that year were:
War in Algeria lead to crisis in France
Stereo Phonograph Recording Developed
Nikita Krushchev becomes premier of USSR
US President was Dwight T. Eisenhower
Vise President was Richard M. Nixon
the average home cost $18,640.00
annual wages were $ 5,087.00
˝ gal of Milk was .51 ˘
a pound of bacon .79 ˘
10 lbs of Potatoes .63 ˘
Hit Songs were "Purple People Eater", "April Love"

---
My Roots: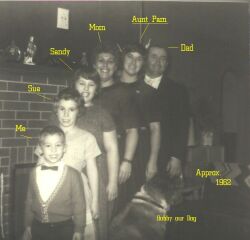 My Dad (Edward) was born in Aug. 1926 and my Mom (Wanda) was born Nov. 1926
They were Married in May 1949,
My Mom died in 1997, then my Dad died in 2000
I grew up with
Sandy was born Sept. 1952, and Graduated FHS, Class of 69

Sue was born March 1955, and Graduated FHS, Class of 72

Aunt Pam was born 1946, [(my moms younger sister) ]

We all lived at 491 Mt. Elam Rd. Fitchburg (I left in 1982)
I went to school K-6 at Hosmer School, then 7-9 at Memorial Jr High ,
then 9-12 at Monty Tech (all in Fitchburg, MA)
where I graduated w/ an Electrician trade in 1976

---

Through the years: also see resume'

I had worked part time at Shirley Catering from 1972-1983
after graduation i took a road trip to Denver Colorado
and returned home to work as an Electrician's helper at Reardon's Elec. in Leominster MA.
got laid off and went to work for a local wood shop (Kelly's Wood Products)
worked a few small jobs, one for a sign maker, another laying floors
in 1978 I went to work at a metal finishing shop (Fitchburg Metal Finishing / Collier Keyworth) for 5 yrs
in 1983 i started at Fitchburg Gas & Electric (known now as Unitil ), til 2014
I am now retired


I was married in May 1982, to Mary McKenna. We went to Pocono Mt. on our honeymoon
We lived in a 1st floor, 5 room apartment on Garfield St., in Fitchburg, MA.
In Feb. 1985, had our first child, Jill
In the summer of 1987 we built a home on Appleton Circle in Fitchburg, MA (a Log Home)
In the summer of 1992, we were separated. I was still in the house with my daughter
until the divorce was final in the beginning of 1996 (my daughter lived with me til 2003)

I had dated a few girls while I was separated (Gail, Julie, Giselle) all very special
and until Oct of 1994, I met Sally MacArthur, in the ChatRoom "Massachusetts" on AOL
We got married in March of 1996, went to Sandal, St Lucia on our honeymoon, and lived in Hubbardston, MA
And in Aug. of 1996, our family was expanded to 4 kids when Dylan came into our world.
In Aug 2007, we divorced,
I lived in Gardner, MA as of Feb 14, 2008 [til 2018]


In 2009 i lost someone special to me to Cancer, Donna i dated the year prior & stayed friends..
Since i have dated a few special ladies, ( Donna, ML, Elle, Cathy, Cindy, Patty, Carol, & Michelle )....
in 2014, I am RETIRED, and have been happily single for a few years..
On April 7, 2014, I had the Gastric Sleeve surgery at U-Mass, and am happily getting healthy & losing weight
In 2018 i got Cochlear implant to my left ear [Advanced Bionics]with hearing aid on right

2018 is the year of change.. I ordered a Class B RV in Jan, picked it up at Lewis RV in Ohio in May, sold house & car in Aug,
and became a full time Van Life .. 1st trip, Ohio to home... then NH/Maine coast line, then Ct/RI coast.. 9/21 i head to Lake George NY area.
then my adventure starts as i head for AZ... follow my blog at MyKampah.com
~~~~~~~~~~~~~~~~~~~~~~~~~~~~~~~~~~~~~~~~~

I am an easy going, relaxed type of guy, not a lot of drama in my life…
I am a casual dresser [jeans & T's] it's what I am comfortable with & don't dress up much..
I am a Home Body, and not a Bar person
I do have troubles with my hearing & wear aides in both ears… some places are worse to hear than others…
My Spare time I enjoy photography... and now VanLife

Kids:
( Jill ) born in Feb. 85, graduated from Monty Tech in 2003, she is now working in the Dental field in Hollis, NH & lives in Nashua, NH
(Dylan) born in Aug. 96, lives in Hubbardston and is enjoying life, he is a computer wiz... He graduated Monty Tech in 14 & attended U-Mass Amherst for Computer Science & completed his last semester abroad in Japan.. now seeking employment in Boston area.
I have 2 step kids:
(Amanda) born Mar. 83, graduated from Monty Tech in 2001, she is now living & working in the Computer field in Ware MA [now a Mom too]
(Brandon) born in Jan. 85, resides in a group home in Gardner [he is blind w/ CP]
---
likes:
I have been into PC's since about 1990 and worked my way through many versions of DOS,
into Windows 3.1, 95, 98, XP, Vista.
I enjoyed buying and building systems (done approx. 12 units )
I also enjoy Photography, whether it's 35mm, video, or digital.... see my photo page

I have enjoy cooking, Motorcycles, [and use to ATV] in past

I drive a Dodge RAM Promaster 3500.. modified to a Winnebago Travato

I also enjoy camping, which started from tenting, then into a 23 ft. trailer, then a 27 ft. class one RV. back to a 17' Fold out Trailer., now nothing, LOL

In the summer of 1998, we pulled our Trailer close to 4,000 miles, in 3 week. We headed to Niagra Falls,
then to Michigan (where we met an online friend, Helen), from there we went under the Great lakes and up to the Wisconsin Dells. We also visited the "Mall of America". From there we traveled south into Iowa, where we visited another online Friend, (JohnBoy)... After that, a little further south and visited the Precious Moments. From there we traveled back east into Pennsylvania, to visit Hershey, Sesame Place & Crayola Crayon. and then back home....
For now we have been camping just in New England......
In the year 2000, (SEPT. 30 - OCT. 13) we did a Vacation to Florida

To start of the year 2002, we did a CRUISE to the Carribean (Princess)

in the Summer of 2002 & 2003, we did a lot of work around our Home

In 2002, I started Cub Scouts with Dylan (Den Leader),

2004 I started a Garden, Doing stuff around the house, working with the Scouts & doing some Camping
We traveled 1,400 miles through out PA & NY.. See where we went & what we did

2005 we went Camping at Cape Cod for a week and a half.. see pics
also did my 3rd year of volunteering a week at Cub Scout Camp

2006, February we are going on a Disney Cruise on the western Carib.

2007, April i did a
trip to Hawaii
, 3 weeks total
2008, Bike up to
Lake Winnipesaukee
2009 - 2014 was just a lot of local
Motorcycle runs
2018.. fulltime VanLife .. follow adventure at
MyKampah